ÉTUDES SUPÉRIEURES : « Mauritian students are successful graduates » : Dr Baihua (Vice-présidente de la Thompson Rivers University)
Article paru dans Le Mauricien | 27 mai, 2016 – 16:00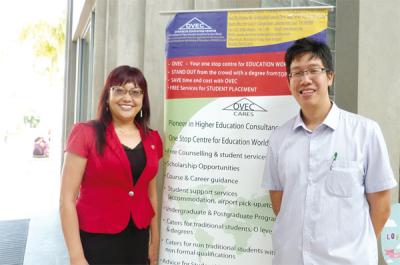 La vice-présidente de la Thompson Rivers University, en Colombie-Britannique, au Canada, était récemment à Maurice pour interviewer ceux qui souhaiteraient y poursuivre leurs études. Se disant impressionnée par le niveau des jeunes mauriciens, le Dr Baihua est d'avis que le Canada représente beaucoup d'opportunités pour les jeunes Mauriciens en termes d'études et de carrière. « We have our own career development office. Mauritian students are successful graduates », dit-elle. L'institution offre par ailleurs plusieurs "merit scholarships" et des "study abroad scholarships".
La Thompson Rivers University, représentée à Maurice par l'Overseas Education Centre (OVEC), compte déjà plusieurs étudiants mauriciens. Le Dr Baihua souligne que les étudiants mauriciens sont « très brillants » et n'ont pas de difficulté à faire carrière au Canada. D'ailleurs, l'institution, qui dispose de son propre "career development office", s'occupe des stages et du recrutement de ses étudiants. « We are a very internationalised university. We prepare our students for the job market and ensure taht they are really successful », affirme le Dr Baihua. Si l'institution compte une large communauté d'étudiants étrangers, elle garde toujours le principe de "small classrooms models" afin de permettre une relation plus personnalisée entre l'étudiant et le chargé de cours. « We have a large team to guide the students through their journey. We also have merit scholarship for good grades and the study abroad scholarship for those who decide to go to America », affirme notre interlocutrice. Pour Franky Chiston, le directeur de l'OVEC, de plus en plus d'étudiants optent pour le Canada en raison des opportunités d'emploi après les études. « Les universités, telles Thompson Rivers, offrent plusieurs avantages en termes de campus, de coût et d'expérience aux Mauriciens », dit-il.
Thompson River University propose une grande variété de programmes, "undergraduate" comme "postgraduate", notamment le "Bachelor of Tourism and Management", très prisé, ainsi que le "Bachelor of Business Administration", autre cursus phare de l'université. Le cours, qui a la cote chez les étudiants mauriciens, est celui en "engineering" et "natural ressources". L'institution offre aussi le "coop programme", soit un programme d'études et de travail combinés.