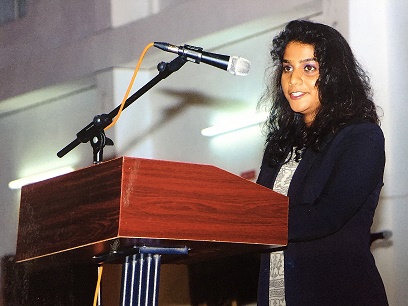 Honourable Ministers,
CEO and Founder of OVEC, Dr Dorish Chitson,
Director of OVEC, Mr Franky Chitson,
Distinguished Guests,
Ladies and Gentlemen,
Good Evening.
I am honoured to be amidst you today to celebrate the fifteenth anniversary of OVEC, Overseas Education Centre. I heartily congratulate the OVEC team, particularly Dr Dorish Chitson, on this occasion.
Well, I will begin with a brief introduction of myself. I am Sweta Manna. I am a third year student pursuing a Bachelor of Laws at Monash University, Melbourne. And luckily, I benefitted from the Monash International Leadership Scholarship which offers 100% course fee remission.
From a very young age, I aspired to study abroad. I wanted to get the international exposure, meet people from all around the world to finally evolve into a world citizen. And I knew that studying abroad especially in Australia was indeed expensive for a middle class Mauritian. Despite both my parents working, I needed financial assistance to fulfil my dream.
So, I embedded myself in my studies to earn top marks in my final exams to be granted a government scholarship. Yet this was not enough. I narrowly missed the chance of being a laureate. Then came the magic – Dr Dorish and her whole team!
Today, I want to thank Dr Dorish on behalf of all the students for whom she fought hard. And believe me, ladies and gentlemen, there are many like me. Always on the phone, busy, taken up with events! Dr Dorish Chitson is an asset for Mauritius, a one woman army (not to say one man army). She has always done her best for Mauritian students, finding seats in appropriate universities, constantly searching for scholarship and grants to benefit them. Without her effort, it would have been impossible for many of our fellow students to access high cost international universities. OVEC has allowed high performing students to dream once again, to dream to access free higher education in worldwide institutions.
Today, universities are constantly in touch with students. They promote an array of courses and recruit potential students through platforms such as OVEC. Depending on the student's performance and vocation, the university may grant a scholarship. Everything is not only restrained to government grants. This is indeed laudable.
My experience at Monash has exceeded my expectations. The first year, of course, was not all glossy and rosy! But it was all worth it. Away from home, family and friends, I had a whole new world to discover. Change, Adaptation – New transportation system, new lifestyle, new friends, new places, (but above all) new education system, new environment! All this, while working hard to maintain my grades for the scholarship!
The funny thing: I had to choose a hobby and that too, by default. It was only after high school that I had time for me, to discover my self, to forge my personality, to explore things I once liked to do and to pursue my hobbies. And this I am sure, does not apply only to me but to most Mauritian students. The Mauritian education system is geared too much towards academic achievements. And this is a pity!
I agree – Studying is not always fun when one has deadlines to meet and homework to do. Yet, I believe that the secret lies within the mindset of the student which is deeply influenced by our education system. One should try to be an all-rounder, enjoying life while studying. Our education system should encourage 'all-rounders' and not merely academics.
At Monash, I have made friends from around the globe, and slowly this new world has become mine. I have discovered my capacity, challenged it and expanded it. Living in Melbourne has moulded me to become a truly independent, self-motivated individual away from home.
Mauritians are generally qualified as bright and hard working students. However, today there is a brain drain the country. Studying abroad is not enough. What is needed is Channeling back the potential to the country. And for this, the Ministry needs to devise a strategy.
As for me, I plan to finish my degree in 1.5 years and do my BAR in Melbourne. (My humble request – Ambassador / pupil master). I wish to practice as a barrister in Melbourne for couple of years to gather experience in new fields of law before returning to help my country.
Once again, I thank OVEC very much for it would have been impossible for me to pursue further studies in the prestigious Monash University without its help. Thank you.
Sweta Manna
Monash, Full Scholarship winner
February 2016