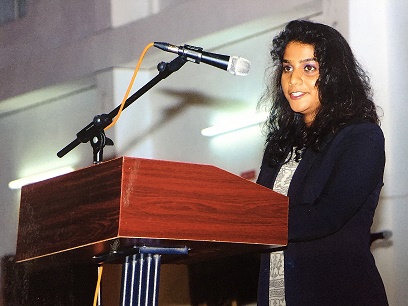 I am grateful to OVEC for having materialised the once 'impossible' dream. Dr Dorish Chitson and her dedicated assistants, Dipeeka in particular, have indeed fought hard on my behalf. I thank them very much for all the effort without which it would have been impossible for me to pursue further studies in the prestigious Monash University (Australia).
Dr Dorish Chitson is an asset for Mauritius. She has always done her best for Mauritian students, always searching for scholarship and grants to benefit them. Without her contribution, it would have been impossible for some of our fellow students to access high cost international universities. OVEC has allowed needy students to dream once again, to dream to access free higher education in worldwide institutions.
Studying law has always been my ultimate ambition. Law is a dynamic subject, evolving over time. It is the backbone of every society; it guides, controls and shapes the wild Homo sapiens we are into civilized human beings
The Mauritian Law Practitioners Act being recently amended has a allowed Mauritian Law Students having called to the Bar in a Commonwealth country (Australia, New Zealand, Canada) to practise as barristers in Mauritius. This amendment has broadened the horizon of Mauritian Law Students.
As a child, I have always strived hard for excellence. Enrolled at Sodnac State Secondary School, I scored an overall aggregate of six at Cambridge O-Levels. Having then joined Queen Elizabeth College, prestigious and elite secondary school in Mauritius, I have always given my 100%, if not more, in everything I undertook. Armed with hard work, strong will power and perseverance, I earned three A* at main A-Level subjects along with two A at subsidiary level subjects, thereby, ranking tenth at national level, Economy side. This scholarship has partly alleviated the financial burden of my parents. I now act as an ambassador for Monash University.
Studying is not always fun when one has deadlines to meet and homework to do. Yet, I believe that the secret lies within the mindset of the student. One should try to be an all-rounder, enjoying life while studying. I have always enjoyed extra-curricular activities at school and outside school with my friends.
A life's journey starts with a single step and for me a degree from Monash University is this first step. It will help me grow from the tenth national ranked student for the year to the inspiring lawyer I want to be.