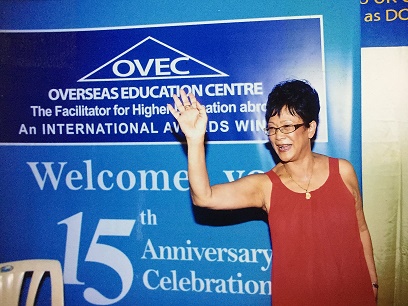 Hon Ivan Collendavelloo – Vice Prime Minister – Minister of Energy and Public Utilities
Hon Anil Gayan – Minister of Health and Quality of Life
Hon Alain Wong – Minister of Civil Service Affairs
Representative of the Minister of Education
Vice Chancellor, UOM,
Chairman of the Tertiary Education Commission
Members of the Diplomatic Corps
Representatives of Universities & Institutions attending the OVEC 2016 Fairs
Distinguished guests,
Friends and well-wishers
Good evening.
I would like to welcome you all to celebrate this 15th Anniversary of OVEC – my special welcome goes to the Foreign Guests who have come from all over the world to also participate at OVEC 2016, the Mauritius International Education Fair which is actually taking place at the MCB Centre in Port Louis.
OVEC 2016 continues the series of fruitful contacts between international institutions and Mauritian students that was launched many years ago. This year, we are especially happy to have extended this OVEC Exhibition to the important Institutions based locally. We are greatly honoured to have you in our midst and we are sure that you will be opening up undreamed of vistas of educational opportunities for our young people who want to be fully informed about the range of knowledge available today. You will certainly be helping them to make the right choice.
OVEC 2016 is an excellent avenue for all those with an open mind and a desire to discover new cultures, make friends and enjoy the beautiful island of Mauritius.
OVEC is about human development first and foremost: – we help send students to universities so they can fulfill their dreams and achieve their full potential.
OVEC also provides free and tailored services to students – we feel a strong sense of responsibility towards them, we help with all aspects of their application process: from helping them fill in application forms, to even counselling parents (who are understandably nervous to see their children take the first flight out of the nest) to helping universities organise airport pickup for students. Finally we take a holistic view of how the world is changing and what skill sets will be the most sought after in the future and encourage students in those directions
As the CEO and founder of my own company, my job is to make sure my company keeps growing as well as offering the best and most comprehensive services to the students. So far it's been a great ride, my company has grown from a one person company sending 8 students per year abroad to now 9 staff members sending hundreds of students to more than a hundred universities across the world.
In always pushing my company to achieve ever greater heights of excellence, professionalism and ethical standards I have helped transform my industry from an amateur and sometimes unscrupulous backwater to a vibrant and trustworthy engine of social responsibility. OVEC only works with reputable universities that genuinely want to educate generations. After all I am first and foremost an educator and my calling in life is always to help young people achieve their full potential. In that respect the greatest satisfaction for me is in knowing that the young person who could only dream of a better life is now fully living it and that by opening the doors to a great education overseas and locally to countless students, I have opened minds and am contributing to a more enlightened and fair society.
I would like to thank you all for your support and for giving our young students the chance to learn more about your school and your country.
I am particularly grateful to my staff for their loyalty and dedication – even the students working part-time follow the good pace – for example Judy and Anne-lise are the ones who prepared the power-point slide show that you will see later on.
My special thanks go to our sponsor, the Mauritius Commercial Bank, represented today by Mr Alain Law Min, the Deputy Chief Executive and Head of Retail and to Mr Francois Woo of CMT who has always responded positively to our request for logistic support in transporting our exhibitors during the OVEC road shows.
I would also like to thank all my friends and teachers present here who have tried their best to help today by either helping for the organisation such as Marcel, George & Claudia or participating in a programme in the cultural show such as yoga, taichi, latin & line dance.
And last but not least, I would like to thank all the members of my family for the success of OVEC:-
my daughter Michele who trouble shoots my IT problems from New York thanks to modern technology.
my youngest son Jerry, who, during his fortnight holiday here last September, modernised my IT system at Moka. Although a doctor, he has always been a 'computer whiz kid' and following instructions from my daughter in New York, he completely set up the Cloud IT system here – I am proud to say that I now have an updated IT system thanks to them
my eldest son Franky, who is managing the OVEC Port Louis branch and looking after the Asian market
and my husband Pierrot for his constant support in my all my endeavours.
Thank you all again for gladly responding to our invitation to come and make this event a reality.
I wish you all the best and Bon appétit.
Dorish
February 2016