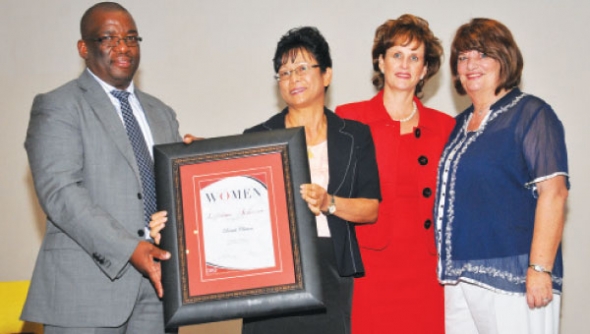 Article by Le Defi News on Sunday
Ovec founder Dorish Chitson is the first Mauritian woman to receive the Life Time Achievement Award, as part of the Africa's Most Influential Women Award.
A dynamic and dedicated woman, she inspires the youth and women to achieve higher. A mother and businesswoman, Dr Dorish Chitson embodies a model of selflessness, professionalism and generosity.
Her 40 long years of excellence and commitment in the education sector was applauded as she is the first Mauritian woman to receive the Life Time Achievement Award, as part of the Africa's Most Influential Women Award. The Managing Director of Overseas Education Centre (OVEC) tells us more of her thriving career, and offers advice for the Mauritian youth.
It's with her fabled good humour and smile that Dr Dorish Chitson welcomed us at the office of the Overseas Education Centre (OVEC) at Moka. We were amazed as she invited us to take a seat in her large veranda overlooking a peaceful river with a breathtaking mountain view. No doubt that this serene environment and lush nature brings a feel good factor to a very hard working woman, who surely needs it. Dr Dorish Chitson is known by many and is recognised for her dedication towards guiding youngsters in their career. Former teacher, she built a solid reputation and became a highly respected business woman when she launched herself in education consultancy. Dorish is married to Dr. Pierrot Chitson and they have three children. "My husband retired from the Ministry of Health where he was the Head of the Non-Communicable Disease Unit – he now devotes himself to private practice as a Medical Specialist. My eldest daughter Michele, works in the finance sector in New York, my son Franky who studied in London, joined OVEC in 2008 to manage the Port Louis office and also did a Master's degree in Education Counselling for that purpose and my youngest son Jerry qualified as a doctor at the University of Sydney last year, he is now doing his internship and will eventually specialise in diabetes like his father," she proudly told us.
Since her childhood, education stood as her number one priority. And as a young child, she always dreamt of running her own company. "I was always very curious about other countries and their cultures and that is why Geography was my favourite subject at school. I thus dreamt about running my own company doing a job travelling around the world in order to visit different people," she said. Thirsty for knowledge and having a passion for geography, Dorish, who is the only girl of a family of seven, pursued her studies with much determination. "I did my secondary studies at QEC then I got a Scholarship to study in France where I did Geography and Law up to the Master's degree. I also have a Postgraduate diploma in Management Studies from London." Though juggling between her role as mother and wife, Dorish did not let any barriers obstruct her path and she embarked for a Doctorate study in Social Science of Development which she successfully earned in 1983 from the University of Science and Technology, Lille.
Back to her motherland, Dorish worked for 25 years as teacher. As part of her profession, she also collaborated and presented numerous research works for tertiary institutions on various topics. She was a Post-Doctoral Research Fellow of the Tertiary Education Commission at the MGI till 1996 when she launched her own business. When asked what motivated her to work in the education field for all those years she replied. "I like human interaction. As soon as I left school, I was offered a job as teacher of Geography at a Loreto College which I much appreciated and thus I decided to become a teacher and do further studies to teach that subject."
Through all those years working with and for children, Dorish feels that it is spiritually rewarding. "The most important thing about me is that I have always enjoyed what I was doing, whether it was teaching or doing research. I really appreciate the outcome of my efforts:- for example, I felt very proud when my research work for the Tertiary Education Commission on 'The Social History of Labour Law in Mauritius' which was published, as well as when my students succeeded with high colours in their exams or get scholarships… For me, being involved in education has always been my calling in life and something I always wanted to do."
Business woman – Her second vocation
It was no surprise for Dorish, who had spent years doing the world's noblest profession to carry on with her primary mission which is to guide youngsters in their path to a successful life and career. And as she loves working with the young and for the young, what a better idea than to set up an education consultancy agency to give free counselling and thus help the students to discover their career options.
"I had always dreamt of one day running my own business and never gave up on that dream – I consider myself very fortunate to have found a way later in life to build a business around my true passion in life – to interact with and help young people find their way in the world. There is no miracle to building something valuable: a little bit of luck, a lot of sweat and hard work and above all a heavy dose of perseverance. I feel that by helping others, I am thus giving back to society and contributing to our country's growth," stated Dr. Dorish.
It is in 2002 that Dr. Chitson launched the Overseas Education Centre (OVEC), an education consultancy that facilitates student admissions to universities abroad by providing them all guidance, counselling and support. "OVEC helps unlock students' potential by matching them with the appropriate institution and course and also saves them time and money – the services OVEC offers are free, ethical, efficient and customised. In the student placement sector my company is always providing innovative solutions to students and universities. As Managing Director and founder of my own company, I ensure that OVEC keeps growing and offering the best and most comprehensive services to my students.
OVEC is still growing despite the global recession. I have been at the forefront of opening new affordable destinations for my students and new markets for my education partners." Dorish is indeed always aiming higher and with her professionalism, she strives to make her company achieve higher standards.
"I'm always pushing my company to achieve ever greater heights of excellence, professionalism and ethical standards, I have helped transform my industry from an amateur and sometimes unscrupulous backwater to a vibrant and trustworthy one," she told us. In 2011, OVEC won the International Quality Crown award that was given in London to excellent companies. Dr. Chitson couldn't feel more proud and stated that she always follows her company's mission statement which is 'We are committed to forming value-centred future leaders through education that is entrepreneurial in spirit, ethical in focus, and global in orientation.' "I am first and foremost an educator and my calling in life is always to help young people achieve their full potential," she uttered.
Looking at the present Mauritian education system
Dr. Chitson feels that too much emphasis is put on the academic side. "All our children are stressed by competition at too early a stage to get into the academic stream. I think that more emphasis and social status should be given to skilled workers. In all societies, there is always a place for good performers in whatever field they are – for example, a good car mechanic can earn well because he does his job well and his clients will always recommend him." She trusts that the family and specially mothers have a very important role to play in the upbringing of their children. She sees the situation in the education sector as alarming regarding the increase in misbehaviours and violence in schools. "Nowadays, both parents are working so that mothers do not have much time to spend on following up on their children's education – mothers must devote some quality time for the children.
A mother must be very watchful because peer influence at school can negatively affect children's behaviour as the latter can follow the bad examples set by bad friends, by violent films and by other bad role models in our society. Therefore mothers should all be properly educated so that they can teach good manners and moral values to their children," she advised. However she also trusts that teachers also have a crucial role to play in children's education. "In most advanced countries such as nearby Singapore, education at pre-primary and primary level is given much importance.
The teachers should have good pedagogical knowledge to impart well the basic human values to children at this tender age. I also think that there should also be more civic education in the syllabus of schools here to consolidate the mother's role at home in the field of moral and social education. Mauritius being a multi-cultural society, proper education will bring about more respect and tolerance toward the other people of different cultures," highlighted Dorish.
Her advice to the young: "Mauritian students should try to broaden their mind by travelling abroad – they should learn about others. There are many benefits out there beyond the local horizon such as prestigious schools, wide range of courses and specialisations, after work -study experience, a different culture, interaction with other young from different countries, etc… I also believe in times of recession it imbues young people with a sense of greater urgency to improve themselves and to look for solutions outside of their comfort zone. When those youngsters find opportunities overseas by way of an overseas education, they will provide Mauritius with invaluable human capital – as when those students decide to return home they would have had many years of overseas work experience under their belts."
Grand Winner of the Lifetime Achievement Award
Dr. Dorish Chitson is not only the Managing Director of OVEC but also a successful woman entrepreneur. She is a woman like any other woman, who despite her success, helps other women to make their enterprise prosper. In fact, Dorish is locally much involved in 'Association Mauricienne des Femmes Chefs d'Entreprise' (AMFCE) which brings together women entrepreneurs to promote, support and encourage their professional growth and life-long learning. Through the AMFCE, Dorish has the opportunity to meet with other women entrepreneurs who share their experiences. "Every month we meet to share our business experience. Last month, a delegation of a dozen AMFCE members went to the annual women congress in Morocco.
The wonderful thing which I admire most about Morocco is the equality of rights granted to women there by the king since 2011 – these women are really good entrepreneurs and have greatly contributed to the dynamism of that country," she happily shared.
She trust that women business owners and CEOs are essential to the very fabric of the economy and that they tend to bring a more co-operative approach to work, they are also more balanced towards risk-taking and bring a more objective, less ego-driven attitude to business decisions. "Especially for a developing economy like Mauritius where patriarchal attitudes still reign supreme, women CEOs are a great role model for the next generation of young women: it tells them that anyone who works hard and has great ideas can succeed and earn respect no matter one's gender, economic or ethnic background.. A society that's inclusive and open in such a way is a society that will endure over the long term," Dorish explained.
On Thursday 7th November, Dorish Chitson received the best reward for her lifelong dedicated work in the education sector of Mauritius. She was the grand winner of the Lifetime Achievement Award as part of Africa's Most Influential Women Award, in which Mauritius participated for the first time. This award event seeks to honour women across African countries for their achievements. The event was hosted by CEO Communications, a South African company which publishes a monthly business magazine." I feel quite grateful that my work has been appreciated and thus recognised. I hope that this will inspire many other women to come forward for such recognition as I know that there are many deserving women who have done praiseworthy actions for their country." She truly believes that Africa's Most Influential Women Award which will be organised year by year by CEO Communications, throughout Africa, will greatly benefit Mauritian women.
"I think that the awarding institution does an amazing job in promoting women especially in a continent where women do not have a lot of rights and traditional attitudes towards women still persist. I believe more than ever, it is important for women to have a voice and to show that they can be successful and productive members of society, as equal to men." For Dr. Dorish Chitson, who has a multi-disciplinary background, there is no great secret for a woman's success. She simply sticks to her motto to "always try my best in everything that I do."
---
Further links:
Le Mauricien ARTICLE PARU DANS LE MAURICIEN | 8 NOVEMBRE, 2013 – 19:00
---
See below for newspaper clippings – Le Defi News On Sunday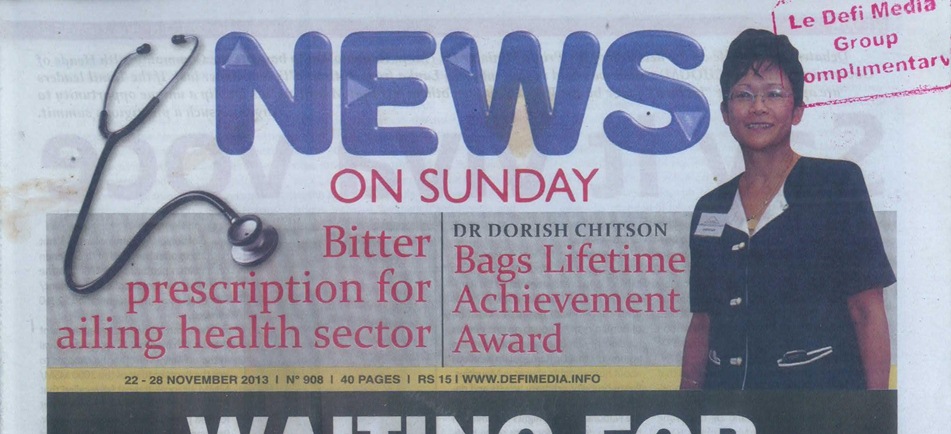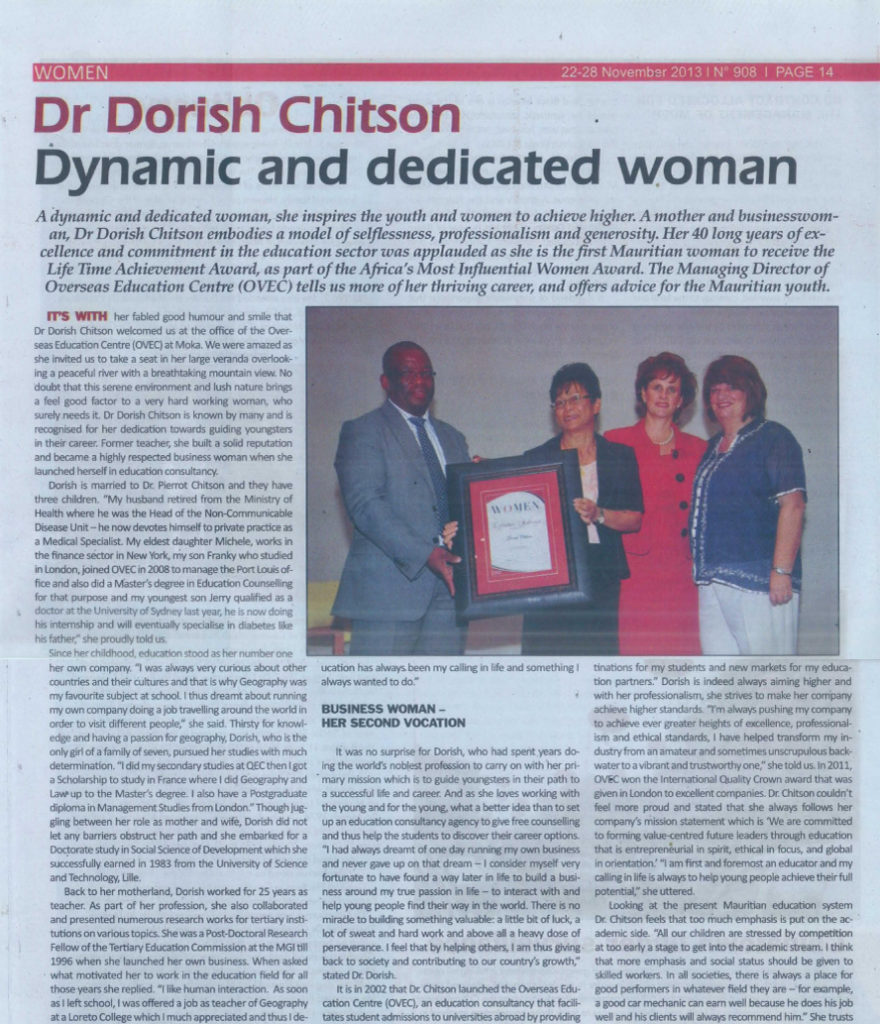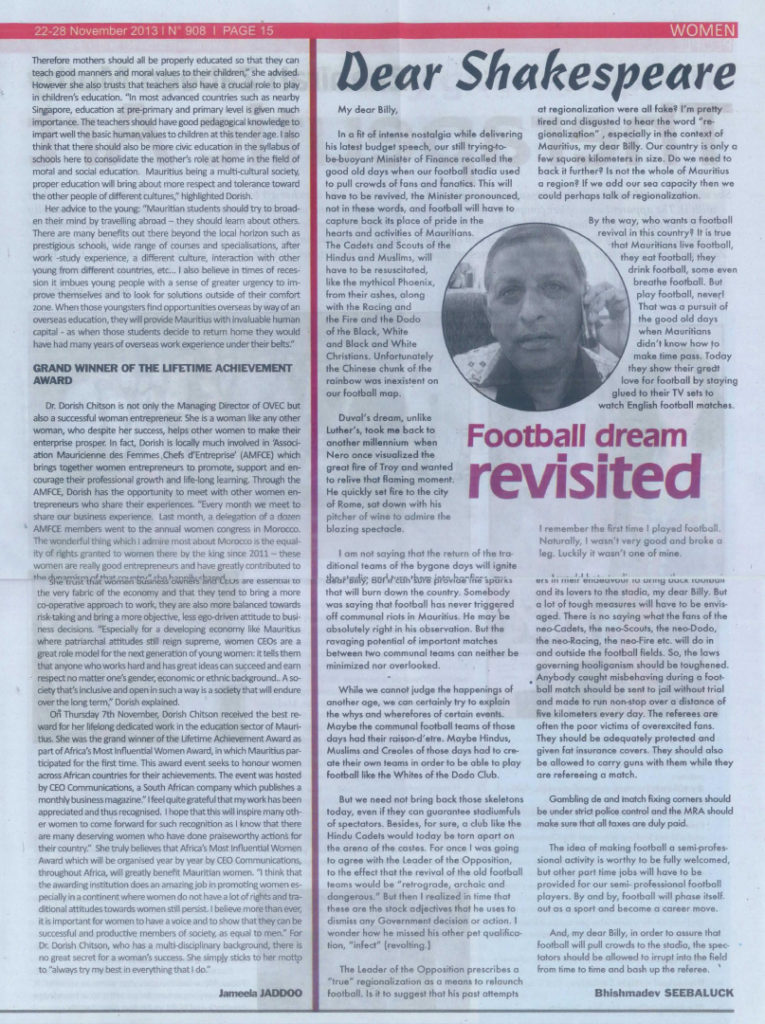 Click below for newspaper articles about the Award: