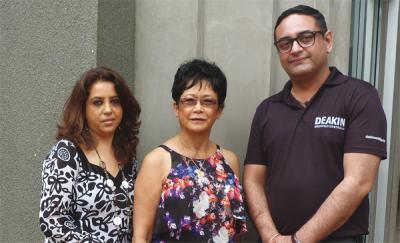 Cette année encore les universités australiennes veulent donner la chance aux Mauriciens d'étudier dans leur institution. Actuellement en visite à Maurice dans le cadre du salon de l'étudiant de l'Overseas Education Centre (OVEC), la directrice de Deakin University, Ravneet Pawha, annonce que l'institution compte offrir trois Deakin International Meritorius Scholarships de 25 % aux Mauriciens cette année. « We are engaging more deeply to have stronger programmes for Mauritians. We may have more scholarships », souligne Mme Pawha.
Le représentant local, Pawan Solanki, ainsi que la directrice ont eu l'occasion durant plusieurs jours d'interviewer ceux qui souhaitent postuler pour une bourse. « Mauritian students are world class students, why not give them the opportunity », soutient la directrice de Deakin, qui est représentée par l'OVEC depuis plusieurs années à Maurice. La Deakin University compte actuellement une cinquantaine d'étudiants mauriciens. Ravneet Pawha soutient que l'institution veut augmenter le nombre d'étudiants car elle se dit impressionnée par le niveau académique des Mauriciens. D'où l'initiative d'offrir des bourses spécifiques pour Maurice. Celles-ci consistent en une bourse de 50 % (Vice Chancellor's Meritorius Scholarship) et trois Deakin International Meritorius Scholarships de 25 %. Pour la première, la directrice de Deakin a eu l'occasion d'interviewer certains étudiants à l'OVEC et elle précise que le processus de sélection est très dur. « If you are looking for quality education, Deakin is the doorstep to your future. You have to see how successful you can be on a global platform », explique Mme Pawha. Notre interlocutrice met l'emphase sur le fait que l'institution mise davantage sur la formation à part entière de l'étudiant et lui conseille de ne pas uniquement voir les classements des universités mais surtout leur approche envers les étudiants. La Deakin University s'assure que l'étudiant trouve un travail dans son domaine après les études. Elle dit croire dans l'éducation par l'enrichissement culturel. « Our vision is to be partner in education rather than a competitor. Students have lots of facilities. We offer world class facilities and are engaged with the students at all level. You will have skills that will build you for the future ». À noter que l'institution offre un rabais de 10 % à tous les Mauriciens qui sont éligibles à l'un de ses cours. La liste de ces cours est disponible au bureau de l'OVEC à Moka. Deakin compte par ailleurs organiser des ateliers de travail en vue de rencontrer les jeunes avant qu'ils ne commencent leur vie estudiantine à la Deakin University.
À travers des négociations continuelles auprès de ces institutions, la directrice de l'OVEC, le Dr Dorish Chitson, réitère son engagement envers les jeunes qui ont le potentiel mais pas les moyens. « Une panoplie de choix et d'opportunités s'ouvre aujourd'hui aux jeunes Mauriciens qui veulent vraiment réussir dans leur vie », dit-elle. À noter que l'OVEC tient son deuxième salon à partir de ce samedi au Flying Dodo à Bagatelle. L'agence continuera par la suite à assister les aspirants étudiants dans leur choix d'études ainsi que les démarches.
ARTICLE PARU DANS LE MAURICIEN | 11 FEBRUARY, 2016 – 22:00